After attending the RemaxWorld Expo and Summit in Zhuhai, China, I have three observations.
First, Zhuhai has continued to grow and prosper since my first visit nearly twenty years ago and even my most recent four years ago.
Second, the show, located in the world-class Zhuhai Convention Center, was huge—occupying a space equivalent to five football fields accommodating 13,938 attendees from 80+ countries and 463 exhibitors.
But, third and most notable was the remarkable atmosphere of innovation, enthusiasm, and optimism—much like the bustle and energy of the US-based World Expo 15-20 years ago.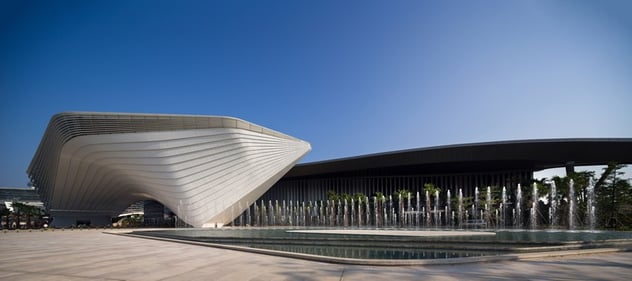 The World-Class Zhuhai Convention Center, PRC
Given that the largest markets for office consumables are Western Europe and the United States, I was surprised that Western pessimism did not overwhelm the Zhuhai event. After all, the Chinese manufacturers, heavily concentrated in their "Imaging Supplies Capital of the World," seek to distribute their products into these large Western markets.
If there's a genuine cause for pessimism in the Western markets, why is there such a sense of optimism within the area that's counting on those markets to fill their factories?
Let's consider some of the challenges discussed in the Summit: observed walking the show and talking to industry leaders.
Between the OEM and Aftermarket manufacturers, an excess manufacturing capacity is exacerbated by the slow decline in demand for cartridges. In addition, there's downward pressure on price as more and more manufacturers enter the field, further increasing capacity and potentially accelerating the pricing spiral.
The barriers for Chinese manufacturers to penetrate "big-box" distribution channels for volume in Western markets are formidable. I would strongly argue it's not going to happen. As a result, much of the Chinese product is, and will continue to be, sold at meager prices via online marketplaces such as Amazon and eBay. Despite their appearance in these channels over recent years, overall aftermarket share has not moved much. Therefore, these products share must have been at the expense of existing aftermarket players rather than the OEMs.

As explained by patent attorney Dr. Katja Dauster, the definitions now set in the German legal system for "repair" versus "reconstruction, establish an ominous undercurrent for the future of high-quality remanufactured products in Germany. Furthermore, if, as seems likely, other European countries follow the German legal methodology, we may be nearing an end to the era of remanufactured cartridges in Europe.

Hewlett Packard's drive toward replacing laser with ink technology will likely have a significant long-term impact on the future of laser cartridges. HP seeks to establish complete control over its technology platform - something it enjoys with ink but not toner. No doubt HP considers it desirable to eliminate Canon from its value chain and keep the currently shared margin portion for itself.

There was tremendous buzz surrounding 3D printing at the Expo. However, in the traditional office products category, it's been common practice for hardware to be underpriced compared to its total manufacturing cost and for high-priced consumables to compensate for losses. There's a profound difference in the current 3D model: while the hardware is priced very low, so are the consumables. Furthermore, with HP entering the market in 2016, I believe the commercialization of 3D printing will enter a new phase. The new machines will be priced much higher according to their scale, complexity, technology, and equipment financing will be needed. It's difficult to see the low-end printers, currently dominated by Asian manufacturers, surviving beyond the hobbyist market. Suppose these companies are to graduate to the higher-end machines to compete with the likes of HP. In that case, they will need access to traditional distribution channels and the relationships necessary for equipment financing.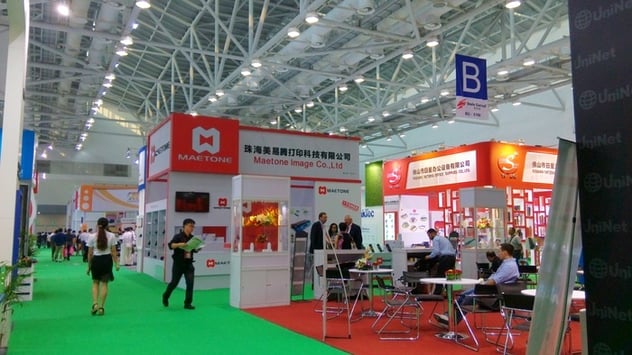 The Zhuhai Convention Center - Show Floor

On the flip side of these headwinds, it was difficult not to be impressed with the aftermarket technology on display. The new product hurdles that can be overcome today compared to 10, 15, and 20 years ago, and in such a short time after OEM launch, are pretty impressive. Whether it be patented features on cartridge designs, new toner technologies, OPC drum designs, or increased technology on the "smart" chips controlling the interface with the hardware, the aftermarket appears well-equipped to deal with these challenges. Just as important, the leading Chinese manufacturers have established a deep understanding of patents and developed the IP portfolios necessary to defend their products.
However, despite these positives on technology and intellectual property, can they overcome the headwinds and justify the evident sense of optimism? Let's think about the following possibilities;
Perhaps remanufacturing of ink and laser is nearing its terminal phase, and compatibles will take over. Let's not forget, in most cases, compatible cartridges cost less to manufacture than equivalent remanufactured cartridges and therefore have an inherent advantage. Should this shift occur, it will play into the hands of the two Chinese powerhouses, Ninestar and Print-Rite, who have invested heavily in compatible laser technology over the last 10-15 years.

The Ninestar family, in terms of its Apex/SCC combination, now dominates chip technology for ink and laser cartridges. Since chips have become one of the cartridges' most critical components, Ninestar has a clear advantage.

In Western markets, where DepotMax/Staples has a strong presence, the distribution channel may collapse under pricing pressure from Asian products selling through online marketplaces. Don't forget, weak balance sheets and heavy expenditures to finance store closures and achieve synergies mean they are ill-equipped to deal with price pressure. This situation could lead to a significant shift in market share toward Asian manufacturers.
Time will tell whether or not these possibilities may account for the underlying enthusiasm and optimism at the Expo. It's difficult to predict what may be, but one thing is for sure, changes are coming, and we need to toughly possibilities.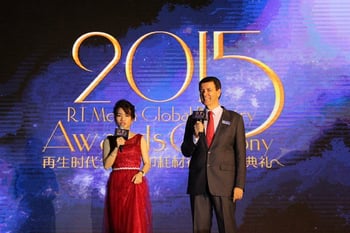 RemaxWorld Expo, in a class o that is on its own, is a must for those seeking an excellent source of industry intelligence.
This article was also published in the November 2015 print edition of Recycling Times in English, Spanish, and Russian and distributed around the globe in hard copy as well as available online at www.iRecyclingTimes.com
David Gibbons & Beckii Li announcing the 2015 Industry Awards