Social Media & Small Business
Old-school marketing may have been expensive, and the returns on investment were vague, but the concept was simple for everyone to understand. Create an advertisement, publish it, and hope someone engages. However, times have changed, and the marketing of a small business's value proposition to its target customers must also change.
Small businesses and social media cannot be avoided. To ensure a small business survives and prospers in the 21st century, it must have a website that's achieved or is on the path to achieving sustainable organic traffic. To develop organic traffic, the business leader must finance content creation to grow an audience. The content has to be engaging, relevant, and valuable to the target audience before that audience will engage.
Social platforms are necessary for delivering content to as broad an audience as possible and to increase the subsequent potential for building relevant traffic back to the target website. Therefore, developing expertise in the use and purpose of various social platforms is unavoidable.
Social media has become an overwhelming subject and is not usually an area of expertise for small business operators because of its broad scope and relatively young "age." It may be tempting for a small business to jump in and engage without a strategy or plan. However, not only can a poorly planned system become a cost and time sinkhole, but if it's not adequately prepared and executed, it has the potential to damage the brand and identity of the business it was intended to enhance.
The Concept
Small businesses interested in developing a social strategy most likely get the idea of establishing networks of high-quality contacts on each social platform they want to build. This network of contacts becomes the audience for the content. The more connections, the more comprehensive the audience, and the wider the audience, the more likely the network will continue to expand. It becomes a virtuous cycle - so long as the content is valuable, relevant, and engaging.
Why not look at our Business Modeling Platform to see how an effective social strategy can develop web traffic and lead to new customers?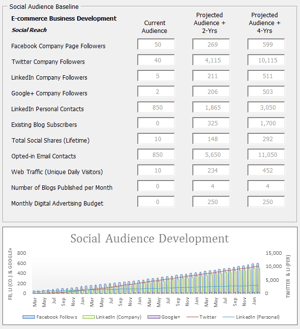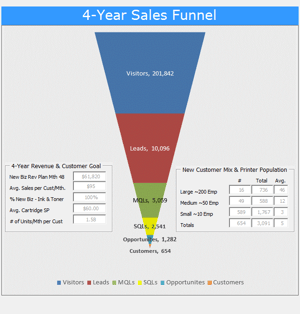 Where to Start?
Everybody has heard of popular social platforms such as Facebook, LinkedIn, Twitter, Pinterest, Tumblr, Instagram, Google+, etc. But, for a small business, among the most important questions faced as a strategy is contemplated is just where to start.
What's the most important platform to use?

What strategy should be developed for each platform?

How many different social platforms need to be developed?

What are the usage patterns and demographics of each of the social platforms?

What content needs to be published?

How frequently should content be published?
Depending on the nature of its business and social objectives, an owner must choose where to focus efforts.
The Difficulty
Although challenging, an effective social strategy is not rocket science. The four essential requirements are;
Creating content in which the target audience has an interest.

I am building a relevant audience.

We are consistently delivering high-quality content over a sustained period.

I am mastering the techniques for how to when to, and the frequency of delivering content.
In the early stages of a social audience-building strategy, it isn't easy to see all the progress indicators and stay motivated to execute the plan. Often, a small business operator becomes disillusioned and spends less time preparing (or paying for) high-quality content, and the initiative stalls.
Unfortunately, there are no silver bullets - it's hard work preparing helpful content and consistently publishing until it becomes an embedded component of day-to-day business operations.
The Price of Failure
With over 80% of buyers conducting research online before deciding, a robust website with great content directed toward helping buyers with their investigation is imperative for a business to survive. However, with a billion websites existing on the Internet, it's no good having great content without a strategy to develop traffic back to that content. No one will find it by accident!
Conclusions
The use of social media as a part of an inbound digital marketing strategy is no more than a modernization of old-school traditional marketing efforts.

Old-school methods are less efficient than modern digital methods and will ultimately lead to business failure

.

Businesses can no longer depend on the circulation or audience of third parties and must develop their own.

Content is "king" - no one will read or engage with poor quality, irrelevant content.

There are no silver-bullet solutions - building a successful social and inbound digital strategy takes time.

Small business owners must invest in content creation, audience building, and engagement.
We focus on independent resellers in the office products industry, mainly consisting of small to medium size businesses. This industry has not performed well in website traffic development, social engagement, or e-commerce.