We're in a digital world, and so much information has never been available to so many. The clock's not turning back - ever! If you're not transforming your business to become part of the digital world, you're going out of business. Maybe not tomorrow, but ultimately, your fate is sealed unless you decide to act.
Take fifteen minutes to study the image below, and then take another fifteen minutes to interact with our live calculator. We've developed this to help you understand your sales funnel, potential, and the vital role your website must play before it becomes a destination for two-thirds of buyers who research before ever contacting a salesperson.
Your decision to engage with this business planning tool should become a pivotal moment for the future of your business!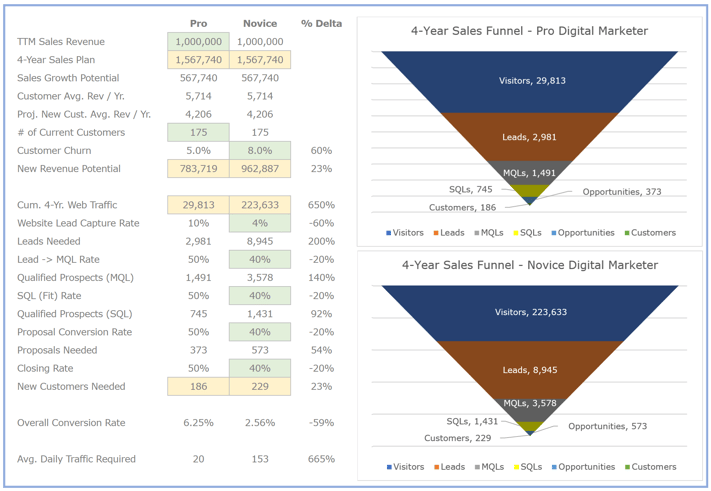 Click the button below to use our free, interactive Social Audience Development Calculator.
There are six potential sources of traffic to your website:
Organic
Referrals
Social Media
Email Marketing
Paid Search
Direct Traffic
FACT ONE:
You must have a website worth visiting!
Never forget that at least two-thirds of buyers are researching online before contacting a salesperson. They're looking for information and are not ready to buy. If you don't have a site that helps these researchers find answers to the questions they're looking for, you're failing to cater to the vast majority of web traffic. You're not catering to ANY web traffic because, in failing to position your business to help research buyers, you also fail to qualify your business when the buyer is finally ready.
FACT TWO:
If you don't have a content-rich website designed to answer the questions of your ideal customer, then there's no point investing a dime in developing traffic to that site.
FACT THREE:
If you have no traffic, you will ultimately go out of business as buyers migrate to competitors with published content that answers questions they're searching for.
Ask yourself:
What's my website traffic volume and my traffic sources?
What's my customer churn rate?
What are my customer acquisition cost and lifetime value?
Can I profitably grow my business in the challenging digital environment?
The digital footprint for office products resellers is very weak and there's an urgent need for these businesses to get on their paths to a digital transformation. There's an office products growth opportunity to be gained by leveraging aftermarket office supplies alongside the new behavioral norm as buyers research before ever contacting a salesperson.